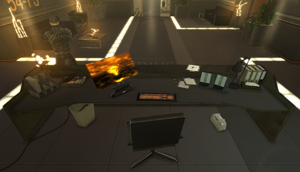 Athene Margoulis' computer
is a computer in
Deus Ex: Human Revolution
. It belongs to
Athene Margoulis
, the Executive Assistance of
Sarif Industries
. It is located in the penthouse of
Sarif Industries Headquarters
, adjacent to
David Sarif
's office.
Login / Password
Edit
The computer has a security rating of 3.
Login:amargoulis
Password: gsspgirl
Mr. Sarif's giftEdit
FROM: Vera Marcovic
TO: Athene Margoulis
Mrs. Margoulis,
Of course, I appreciate Mr. Sarif's support. Which is why I will do my best to explain to my patient exactly what this generous gift entails. But that is as far as I will go.
From now on, whatever augmentations he decides to acquire will be his choice, and his alone. The patient -- and not the employer -- will be the one to decide whether a half-tested prototype augmentation should be included with all the others or not.
Sincerly,
Vera Marcovic, MD
LIMB International
Detroit Branch
RE: Weekly Lab ReportEdit
FROM: Heather Stichner
TO: Athene Margoulis
Athene,
As requested, here's the weekly project report from the temp labs. Can you let David know we're really trying, but there's only so much you can push people. "Necessity knows no law except to conquer" really only sounds good on paper.
-Heather
_________________________________________________________
*TS0327_INT_242 (TYPHOON):
Completed and off to manufacturing. Research team reassigned to Project Basilisk.
*TS0427_INT_242 (BASILISK):
2 wks behind schedule. May need to go back to DOD for extension and more funds.
*TS0327_MIL_363 (LONGTIGER):
Postponed to 3rd Q 2028. Thank goodness O'Neill had other priorities.
*GP98923_EYE_UPG (OmniVision.2):
Progress looks good, but it's about to get held up in viabilty testing. Since it's internally driven, can we push it to next quarter?
*CP89764_SKN_UPG (Cosmtech D):
Passed Phase 1 inspections. (Yeah!) Need to re-examine contract and timeline before determining next steps.
amargoulis@SI.corp.det wrote:
>Heather,
>David's meeting with the board next week to
>go over our financials. I NEED the weekly
>project reports before then.
>
>Athene
L DeBeersEdit
FROM: David Sarif
TO: Athene Margoulis
Do NOT put that man through to me again, Athene. I don't care how much money he has or how influential his company is -- I want nothing to do with him OR the organization he represents. I've kept this company afloat and free of their influence-peddling for years. I'm not about to start listening to them now.
Community content is available under
CC-BY-SA
unless otherwise noted.