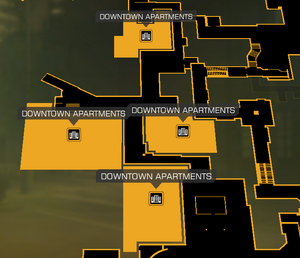 The Detroit Downtown Apartments are a collection of four buildings bearing the same name. For clarification, this article with refer to the individual buildings by map position.
North Building
Edit
Lower Floor: Seurat, a weapons dealer who will give you "the egghead discount" if you saved the Thorpe couple in the initial mission.
Upper Floor: Motor City Bangers hideout (associated quest: Cloak & Daggers).
Outside: Basketball court (associated quest: Lesser Evils and Balls).
Easter Egg: An apartment (behind a level 2 lock) has a box of GURPS books.
South Building
Edit
West Building
Edit
First Floor: Brian Tindall's apartment (associated quest: Lesser Evils). Security gate at the base of the building is unlocked with the code 0002.
Second Floor: Jack O'Malley's apartment (associated quest: Cloak & Daggers).
Third Floor: Illegal augmentation chopshop containing a praxis kit. The front door has Level 5 lock (code 2356), the interior has Level 2 (code 8221), and another Level 5 locks the final door (code 3663 can also be earned from the nearby Level 1 computer).
East Building
Edit
Community content is available under
CC-BY-SA
unless otherwise noted.