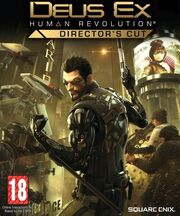 Deus Ex: Human Revolution - Director's Cut
was released on October 22, 2013 for Wii U and later Xbox 360, PS3, and PC.
It features approximately 8 hours of director's commentaries and a 45 minute "Making Of" video. It also features an improved visual engine and a complete overhaul of the boss battles.
Features Summary
Edit
The Director's Cut has the following new features:
Improved Textures
The Missing Link DLC is now fully integrated into the base game.
Option to start New Game where previously selected Augmentations will carry over, similar to the New Game + mode of modern videogames. Weapons from the previous playthrough will be gone.
Overhauled Boss Battles, now enabling the player to be more pre-emptive and tactical when confronting bosses.
45 Minute "Making Of" video.
Around 8 hours of commentary from Eidos Montreal
By default Jensen will be able to regenerate two energy cells on all but the hardest difficulty.
Players can now use Jensen's augmentation powers more freely.
Integrated DLC
Edit
All the DLC (including The Missing Link and Explosive Mission Pack) are now completely integrated into the base game.
Improved Textures
Edit
Changes include improved shaders, a revamped lighting system and a new fog system that "makes the atmosphere really stand out". (Citation Needed)
Overhauled Boss Battles
Edit
Boss fights were changed to provide the player more options to deal with bosses, depending on how the player developed their character, although there are no options/paths to completely bypass these battles. Most notably, new hacking/stealth options were added which enable players to set preemptive traps (such as sentries or poison gas) during these battles.
Official Site
Edit
References
Edit
Community content is available under
CC-BY-SA
unless otherwise noted.