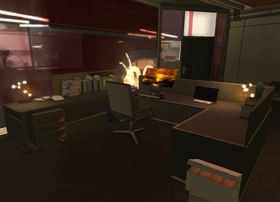 Faridah Malik's computer is a computer appearing in Deus Ex: Human Revolution. It is located in Faridah Malik's office (number 22) in Sarif Industries Headquarters.
FROM: k2ordie@yazurispt.det.usa
TO: Faridah Malik
Hey Flygirl. I'm serious about hitting J-Tree next month. Think about it: Thanksgiving. In the desert, hanging out after we nail the Fortress! Natural Selection, ba-beee. YOU bring the glowsticks, this time.
You in?
-Raz
FROM: Francis Pritchard
TO: Faridah Malik
Thank you, Malik. I'll be sure to have a look down there myself. In the meantime, I HAVE changed the code. It's 8053 now. Might I suggest you delete this mail as soon as you've read it?
Faridah Malik (flygirl@SI.corp.det) wrote:
>Hey, Pritchard. Didn't you fire Brian Tindall
>a few weeks ago? I could've sworn I saw
>him coming out of the helipad storage
>area the other night. Far as I could tell,
>nothing was missing, but I think you
>should change the room's access code,
>just to be safe.
Community content is available under
CC-BY-SA
unless otherwise noted.