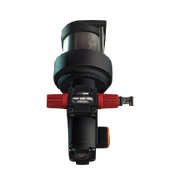 Hydraulic Micropump is a sellable item in Deus Ex: Mankind Divided. They are manufactured by Xenon.
Description
Edit
A generic pump used in a wide range of mechanical augmentations for regulating pressure within synthetic muscle and joint systems. Sell it to a merchant who knows that they're doing.
The item has no functional purpose other than to be sold for credits. Each micropump sells for 75

base price. However, Costache at Tech Noir will pay an increased (+60%) price of 120

each.
See also
Edit
Community content is available under
CC-BY-SA
unless otherwise noted.