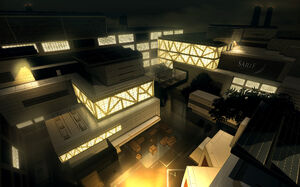 Milwaukee Junction is an area in Detroit, Michigan that is visited by Adam Jensen in Deus Ex: Human Revolution.
It is associated with the early auto industry, as it was a major center of automobile manufacturing in the 1920s. David Sarif established his company Sarif Industries in Detroit in an attempt to revitalize the city. Sarif purchased abandoned car plants and renovated them into high-tech augmentation factories. One such plant was purchased at Milwaukee Junction and became the Sarif Manufacturing Plant.
Six months after the Tyrants' attack at the Sarif Industries HQ, the extremist Purity First attacked and took over the manufacturing plant. Jensen is taken off of sick leave and given the primary objective of retrieving the Typhoon, an augmentation weapon prototype. Jensen also has the secondary goal of rescuing workers taken hostage.
Community content is available under
CC-BY-SA
unless otherwise noted.