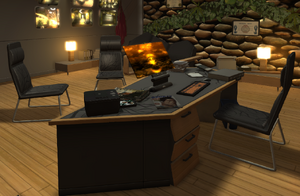 Narhari Kahn's computer is a computer in Deus Ex: Human Revolution. It is located in Narhari Kahn's office in the Upper Management section of Tai Yong Medical.
The computer has a security rating of 4. 
Login: nemuni
Password: ironfist
FROM: KellyJ@TYM.belltower.net
TO: Narhari Kahn
Sir,
We cordoned off the building, but subject has evaded capture. We also exposed and gained entry to a concealed room in the apartment, and are awaiting D-sec to do a deep hack of the hardware. In the meantime we are conducting a door-to-door sweep of the perimeter.
Intel suggests subject may have gone underground. Possible sources of new info may be the local Triad groups. Or more specifically, Tong.
Standing by and awaiting your orders.
FROM: Zhao Yun Ru
TO: Narhari Kahn
Yes, you have permission! He's putting my entire future at risk. Find him and eliminate him.
-Z
Narhari Kahn wrote:
>Madame,
>the bar owner knew nothing but a lowlife in
>the Hotel Hung Hua was more forthcoming.
>The Triads are hiding our friend inside the
>Alice Garden pods. This might get bloody.
>Permission to go in fullforce?
Your Mailbox is reaching its limit

[

edit

|

edit source

]
FROM: TYM System Administrator
TO: ALL TYM STAFF
--THIS MESSAGE WAS AUTOMATICALLY GENERATED--
Dear valued employee,
Your inbox has exceeded one or more size limits set by your administrator.
Your inbox size is currently at two (2) email(s).
Mailbox size limits: Four (4) email(s).
To make more space available, immediately archive any items that you're no longer using or move them to your personal folder file. Emails contained within your personal folder can later be accessed via submission of a formal request to the presiding archives administrator.
See client Help for more information.
Remember: Be neat, be tidy. Be safe.
Community content is available under
CC-BY-SA
unless otherwise noted.