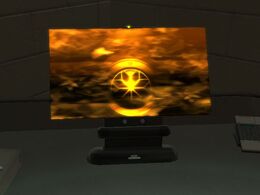 Philip Mancuso's computer is a computer appearing in Deus Ex: Human Revolution. It can be found in an office on the ground floor of the Sarif Manufacturing Plant. The computer is unlocked so no login details are required. 
FROM ATHENE MARGOULIS
TO ALL STAFF
Hello all,
Management realizes that you have all been working long hours in the drive to fulfil recent military contracts. We recognise your increased efforts and we thank you for your unswerving dedication to getting the job done efficiently and with pride.
The current increase in workload will last only two more weeks. On behalf of Sarif Industries, we thank you for your patience and dedication.
Athene
Athene Margoulis
Executive Assistant
Sarif Industries
FROM TROY_KELLERMAN@FASTDELIVERY.DET.USA
TO PHILIP MANCUSO
This is news to me. It should have been Moody. I'll talk to him later. We'll send a guy over now with the copper. Should be half hour max.
TK
Philip Mancuso (pmancuso@SI.fact.det) wrote:
>Troy, we need copper wire, stat. Don't know
>where your guy was this morning, but we
>never got the shipment.
FROM JOSEPH SMITH
TO PHILIP MANCUSO
Phil, we've got more problems with the line in 9F. The rig is down and we need someone to take a look ASAP. I don't want to be the one to hold up production. It'll be my head on the block if it isn't fixed yesterday.
Smitty
Community content is available under
CC-BY-SA
unless otherwise noted.