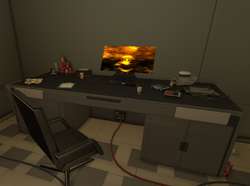 Picus Server Dataroom computer is an in-game computer in Deus Ex: Human Revolution. It can be found in the lower Server Dataroom next to the Picus Web section of the Picus headquarters. The computer is unlocked, so no login details are needed.
From: Red Fisherman
To: Todd Jackson
Are you writing the article on Strasbourg's[1] retirement? What do you think, first ballot H.O.F.? BTW, I'm starting a weekly column devoted to the Enhanced Hockey League. I'm finally caving. Still think it's far too violent and that someone's gonna die one day because of the speed they play at but there's no doubt about how exciting it is. Plus it's the fastest rising sport out there and the bosses haven't stopped putting the pressure on me for six months now. Still not touching Aug Combat though...
Red
From: Jimmy Solti
To: Todd Jackson
You have to seriously be the shittiest sports columnist in the country. I can't believe you approve of this trade. It's the worst move this team has made since they gave up on Carey[2] in 2012. I hope you choke on your sandwich at lunch today.
Your number one fan.
Jimmy
↑ "Strasbourg" is a misspelling of baseball pitcher Stephen Strasburg. In the real world, the Montreal Expos moved to Washington to become the Nationals (the team Strasburg pitches for). In the world of Deus Ex, the team never left Montreal (according to an e-mail between other Picus employees talking about going to an Expos game).
↑ "Carey" in the Jimmy Solti e-mail is probably Montreal Canadiens goaltender Carey Price, who in the real world became a free agent in 2012 (after this game's release) and was re-signed by Montreal. In the world of Deus Ex, the Canadiens seem to have let him leave, to the team's detriment.
Community content is available under
CC-BY-SA
unless otherwise noted.