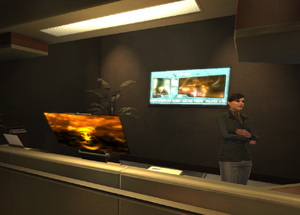 Sherri ter Horst's computer is one of the various in-game computers in Deus Ex: Human Revolution. It can be found in the lobby of the Chiron Building in Detroit, and is used by the building's manager, Sherri ter Horst. This computer is unlocked, so no login details are needed.
From: robdavis@desertglass.det.usa
To: Sherri.Horst@chiron-building.net
Hi!
The mirror you ordered for the penthouse bathroom arrived in our warehouse almost four weeks ago.
This is your last reminder. If you don't pick it up right away, we'll have to ship it back.
Thanks.
From: amargoulis@SI.corp.det
To: Sherri.Horst@chiron-building.net
Every building has tenants it can afford to lose, and others it cannot.
I trust you know what is best and will act accordingly. Please let me know your final decision.
Thank you.

Athene Margoulis
Sarif Industries


You wrote:
>Ms. Margoulis,
>In response to your recent inquiry about
>renting rooms to more Sarif employees.
>I regret that this will not be possible
>because we have no more rooms available.
>All of our apartments are currently leased.
>
>Sherri ter Horst
From: A.Westlind@gaggle.por.usa
To: Sherri.Horst@chiron-building.net
Ms. Ter Horst,
Thank you for your time.
I will be in Detroit in two days to discuss is further.
Alan Westlind.


You wrote:
>Mr. Westlind,
>
>I'm sorry, but I cannot be of any more help
>since I do not know the circumstances
>under which she left.
>All any of us here know is what you have
>already been told. With her rent over a
>week late, and no answer on the telephone
>nor reply to mails, for several days, our
>custodian entered the room with a passkey
>-- standard procedure as outlined in the
>lease you signed.
>The room was discovered to be completely
>empty, with no furniture and no wall
>hangings. Even the garbage had been
>removed. Again as per the lease, we
>assumed the room had been vacated
>without notice, and re-rented it. We have
>received no communication from your
>daughter since her last rent payment.
>
>Sincerely sorry,
>
> Ms. Sherri ter Horst
Adam Westlind's daughter is among multiple people who have disappeared in Detroit in 2027 under mysterious circumstances. She might have been kidnapped and transferred to the Rifleman Bank Station for use as a test subject for the Hyron Project.
Community content is available under
CC-BY-SA
unless otherwise noted.