Genetically modified mammals, or transgenics, are mammals that have been genetically engineered. They are an important category of genetically modified organisms.
In Deus Ex and Deus Ex: Invisible WarEdit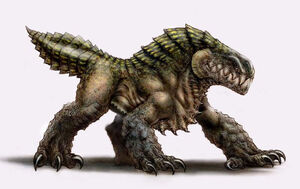 In both
Deus Ex
and
Deus Ex: Invisible War
,  transgenic creatures are created by
VersaLife
under the
Genetically Modified Organism Project
, which breeds creatures such as
greasels
and
karkians
. Both organisms appear to be recombinant creations. A third major project,
grays
, are supposedly cloned from DNA recovered from
Roswell
-- though they are also suggested to be engineered monkeys (such as
ruck
) that spit toxic substance and have no hair. After the
Collapse
, some of the creatures have escaped from VersaLife labs and roam free.
Community content is available under
CC-BY-SA
unless otherwise noted.