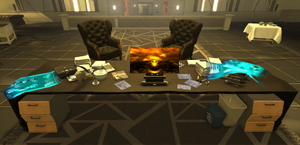 Zhao Yun Ru's computer is a computer that appears in Deus Ex: Human Revolution. It belongs to Zhao Yun Ru, President and CEO of Tai Yong Medical, and is in her penthouse in the Tai Yong Medical Headquarters.
The computer has security level 3.
Login: yzhao
Password: encaustic
From: Zhao Yun Ru
To: (no address)
- THIS MESSAGE HAD NOT YET BEEN SENT -
You gave me a job to do. A tremendously difficult job, but have I not surpassed expectations? Two years ago, Laredo Manufacturing, N-Pro Tech, and Shilung Prosthetics were all formidable companies, controlling important sectors of the global marketplace. All of them now belong to ME. To Tai Yong Medical. Obviously, I know what I am doing! You HAVE to trust me on this! You must convene the council
From: windmill@hackernet.net
To: Zhao Yun Ru
Fine. It's done. But these mercs? Fucking scary.
Zhao Yun Ru wrote:
>You don't get to say if it's a 'bad decision'
>or not. Send everything you've got on
>Sarif's security systems to the following
>address and stand by to assist them
>when I tell you.
>
>grey@omega.di.net
>
>Advise me when it's done.
>-Z
Community content is available under
CC-BY-SA
unless otherwise noted.